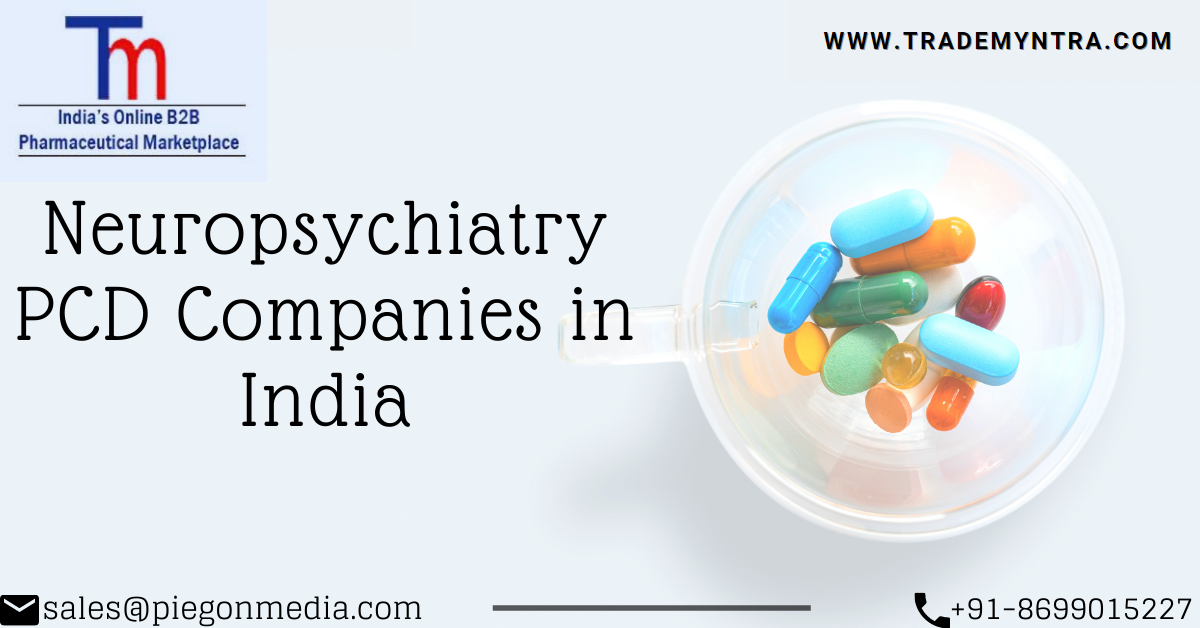 Trade Maantra is a dynamic platform, helping businesses from numerous niches look for options to expand their global operations. Whether you're an exporter, an importer, an investor, or an outsourcing company, we like being the middle ground for our clients.
Today, we are here to help investors looking for the best Neuro PCD pharma company. Let us now look at what neuropsychiatry is.
What is Neuropsychiatry?
Neuropsychiatry focuses on the combined study of conditions related to neurology and psychiatry. Neuropsychiatry is a combination of medicine and science that together help find the treatment of these conditions.
The pharma companies that produce medicine or products for neuropsychiatric disorders are known as neuropsychiatry PCD companies. If any business owner or individual wishes to deal in neuro and psychiatry medicine, they can contact such big companies for their PCD franchises. With their reputed name, branding, and market monopoly, the partners can earn good benefits. Most of these companies also operate at a global level, so investing in a Neuropsychiatry Franchise Company is a good decision.
We have compiled a list of the top five companies that may prove to be the best neuropsychiatry products franchise:
Naxpar Group



Year of incorporation: 1985
The Naxpar Group is a very reputed name in the Indian pharma market. Started by two brothers more than three decades ago, the company has always been driven to boost the pharma and cosmetics industry in India. Headquartered in Mumbai, the company has its manufacturing plants in Silvassa in Dadar and Nagar Haveli, and Baddi in Himachal Pradesh.
Over the years, the company has received many accreditations for following Good Quality Systems, the RWTUV, Germany provided Naxpar with the ISO 9002 status. The neuro PCD company operates at an international level in countries from South East Asia, Eastern Europe, etc.
Lifecare Neuro Products Ltd.



Year of incorporation: 1994
A reputed name in the Indian pharma industry, Lifecare Neuro Products Ltd. deals in the production and distribution of neuropsychiatry pharmaceutical formulations. The manufacturing unit of the company is located in Baddi, Himachal Pradesh (Asia's largest pharma hub).
Lifecare specializes in Neuro and Psychiatric medicines. The company is associated with third-party manufacturers as well as is one of the biggest Neuro PCD companies in India.
Zota Pharmaceuticals Private Limited



Year of incorporation: 2003
Another company that proves to be a good neuropsychiatry products franchise is Zota. The company is located in Chennai, Tamil Nadu, and is a manufacturer and exporter of pharma goods.
The company's plant runs under the certification of WHO-GMP with a NABL-accredited QA lab. The major categories of products manufactured by the company are tablets and blisters. Zota operates at an international level, exporting its products to countries like Canada, Vietnam, Mauritius, Kenya, Sri Lanka, Bahamas, Costa Rica, and more. It is one of the best companies for a pharma franchise in the neuro segment.
Servocare Lifesciences Private Limited



Year of incorporation: 2005
Unlike Lifecare, Servocare Lifesciences deals in a wide range of pharma products and not only neuropsychiatric medicine. The products manufactured by the company include tablets, capsules, topical preparations, eye, and ear drops, protein powder, injectables, syrups, etc.
Along with the Indian pharma market, Servocare also distributes its products in the countries of the middle east, the UK, Eastern Europe, Asia, Africa, and more. This neuro PCD company is based in Chandigarh.
Protech Biopharma
Year of incorporation: 2007
Based in Pulwama, J&K, Protech Biopharma is also an Indian pharma company that operates on a global level. The focus of the company is to produce FDFs (Finished Drug Formulations). Their products mainly include FDFs in tablet or capsule form.
Along with neurology, the company also produces cardiac, anti-viral, anti-fungal, anti-bacterial, neuropsychiatric, and antihistamine medicines. They follow a strict quality policy and carry out their business in countries like Afghanistan, Uzbekistan, Africa, etc. If you're looking for a Neuro PCD Pharma company on Trade Maantra, this one can be a good pick.
If you're looking forward to investing in any of these companies as a PCD franchise holder, you can explore more at Trade Maantra. We help businesses fulfill their business requirements related to investments, partnerships, and franchises. Contact us today to learn more.