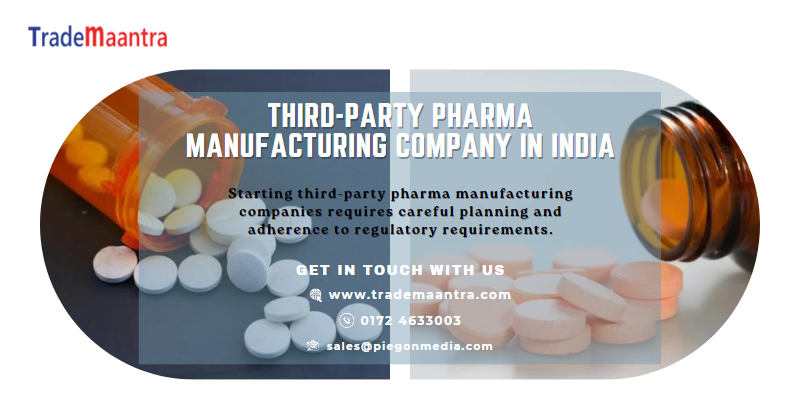 Pharmaceuticals have turned out as a very beneficial and thriving industry in India lately. With global recognition and a post-COVID spike in medicine requirements, the number of pharma companies in India is on a rise.
As a result, many people have thought of investing in this growing sector. If you are one of those people looking for different business models in the pharma industry, we are here for you. Here, we will discuss why you should consider a third party pharma manufacturer and how it will benefit you.
But first, let's learn what a Pharma Third Party Manufacturer is.
Third Party Manufacturing in Pharma Industry:
As the name suggests, third party manufacturing is where the business owner does not take the production into his own hands. The production is done by a third party manufacturer under a contract where they produce pharma products for the business owner's brand name.
The reasons why a business owner may not want their plant may include:
Insufficient funds to set up a manufacturing plant

Insufficient space for the plant

A need for an extension to an existing plant



So, if you're looking for an alternative to starting your pharma manufacturing plant, a pharma third party manufacturer is the best bet. Let us now look at the benefits this business model will bring you:
The Three Benefits of a Third Party Pharma Manufacturing Company
Experience and Reliability
Most third party pharma manufacturing companies in India enjoy a good market rapport. With their experience in producing pharma products, they are a great aid to new pharma companies. These manufacturers assure good-quality production and offer reliability with their experience.
With their support to multiple clients, they acquire industry expertise, which helps pharma companies to a good extent.
An Economic Alternative
If you don't have a big budget to start your pharma business in India, you might feel pressured to give up on your business idea. However, a third party pharma manufacturer will solve that problem for you.
With the third-party pharma manufacturer taking care of your production needs, all you need to worry about is how you can market your brand. You only need an office and some space for storage. There is no need to invest a hefty amount in setting up a manufacturing plant, which is one of the biggest expenses borne by pharmaceutical companies.
Also, with bulk orders, you may get your products at a lesser price. It is because third party manufacturers work for several companies and they have the production material already handy.
Beneficial At the Times of High Demand
We have been through the COVID-19 pandemic and we witnessed the undersupply of many essential medicines. In such cases, when pharma companies face high demand for their products and their current production methods fail to meet it, a third party manufacturer can help.
These manufacturers work as an extension to the production houses of big pharma companies. So, when the demand is high for a short period, companies do not have to splurge to set up a new manufacturing plant. They can outsource the production services and supply their products to the markets.
So, these are the benefits of hiring a Third Party Pharma Manufacturing Company. If you're willing to learn more about it, contact Trade Maantra today.